Magnetic mount : a risk for the phone?
Are you looking for a phone mount for your car, motorbike or bicycle, but you wonder if magnetised mounts can damage your mobile phone? This article will answer your questions about the dangers and effects that can be caused by mounts with magnets for smartphones. 
What are the potential effects of magnets on the phone?
These days, most people use a phone mount when they are driving their car, motorbike or bicycle. Having a phone mount in the vehicle allows you to use a GPS application without being disturbed while driving.
Using a phone mount also brings safety on the road. Remember, it is forbidden to use the phone while driving, no matter if you are on a bike, motorbike or car. Choosing to buy a mount gives you extra comfort.
Of course, there are a multitude of telephone mounts where all price ranges can be found. The magnetic mount is one of the most secure mounts for your smartphone on today's market, as it offers extra reliability that other mounts don't have. With some brands, it can be declined as a universal mount. The presence of magnets in the mechanism guarantees security that should not be overlooked. Fixed correctly, your phone will not fall and will not move during the ride.
On the other hand, some magnetic mounts available on the market may involve risks for your phone. It all depends on the mount you are going to buy.
First of all, you need to check the size and intensity of the magnets incorporated in the mount. It is the dimensions of the magnets and their intensity that can damage the components of your phone. 
Depending on the magnetic mount you choose, you may be faced with 3 disadvantages known on the market. Firstly, the magnetic field can blur your camera.
In addition, your smartphone's compass may become out of alignment when you use a certain magnetic mount. This is caused by the presence of too large magnets that cause the compass to be out of alignment. 
The phone model must also be taken into account. Some smartphones may be more sensitive to certain magnetic mounts than an iPhone, and vice versa. 
However, the risks identified with mobile phone mount are low and rarely damage your phone in the long term. 
Are magnetic mounts dangerous for your smartphone?
As you may have read earlier, some magnetic mounts can be dangerous, but this is not the case for everyone. Fortunately, there are many ways to find out if a magnetic phone mount can damage your phone.
 Manufacturers specialising in the production of magnetic mounts for different brands of telephones carry out tests to certify that their products are safe for telephones. These tests provide additional consumer satisfaction. Some consumers leave opinions on dedicated platforms such as Trustpilot or Verified Opinions. Also, you can find test and review articles by searching on Google. 
 At Tigra Sport, we are committed to selling quality and secure products for your new iPhone or your latest smartphone. That's why our FitClic Neo mounts are tested to ensure that this type of malfunction is not present when you use one of our mobile phone mounts or cases. The FitClic Neo fastening system is both mechanical and magnetic. The magnets in our magnetic mounts are so small that they have no impact on the phone's compass, location when using GPS applications and do not damage the camera on your new phone.
We have designed phone mounts for various activities (motorbike, bicycle, car, running, active life) so that our users can have a wide range of products to use daily. Another advantage of using our products? You can switch from your running or car mount to your motorbike mount in a simple move, without the need to change the phone case. With your FitClic Neo case you can use all the mounts of the same name. This saves time and makes it easier to use.
We offer for sale several mounts for motorbikes, bicycles and cars in order to approach various solutions and fit a wide range of vehicles and 2 wheels. To discover all the magnetic mounts available, simply visit our website Tigra Sport Europe in the FitClic Neo category.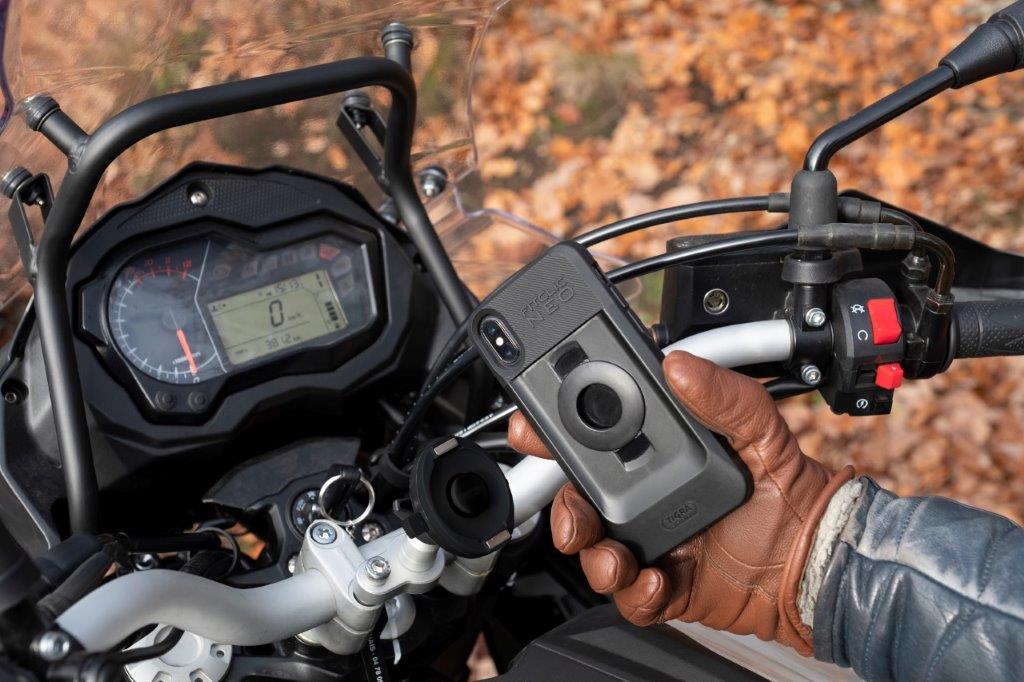 Can magnets delete my phone's memory?
Don't worry, phone mounts with a magnet won't risk deleting the memory of your latest smartphone. But again, it's important to check the details on the product sheet and the capacity of the magnet before you make your purchase. This will help avoid unpleasant surprises when you receive and use your new product.
At Tigra Sport, our products and accessories have been developed in such a way that they do not interfere with the components of your device. The memory of your smartphone will not be erased because you are using one of our magnetic mounts. You can use our car windscreen mount without risk of interference. This car mount with magnets offers you a multitude of possibilities with its 360° rotation and choice of vertical or horizontal orientation.  In addition, this car mount contains a suction cup for good adhesion to the windscreen. Its use, even daily, will not affect the functionality of your smartphone. You can use GPS applications or your music via Bluetooth without fear.
For those who prefer a more discrete and compact mount, we have the solution. The car vent mount that fits more than 90% of the air vent on the market. It offers quick access to your smartphone and will not appear in your field of vision or interfere with the dashboard while driving. However, we advise you to check the dimensions of your air vent before making your purchase. 
Leave a Comment
Leave a Reply
Please
login
to post a comment.