How to choose the best motorcycle phone mount to protect your phone while riding your motorbike?
Motorcycle handlebar mounts
Whether going out for a ride or to work, whether sunny or rainy, it's always a good chance to ride your motorbike. For sure, you need the GPS navigation and communication apps available on your smartphone.  You  also need to find a motorcycle phone holder compatible with your handlebar.
Nothing is more important than a motorbike mount that holds the road, while remaining versatile and unobtrusive. To do this, it is essential that the motorbike holder matches your needs and your motorcycle or scooter. The motorbike mount must be positioned in such a way that the phone is easily accessible, thanks to a rotation system for example, in order to have a good view of your screen, whether it is to follow your GPS directions, or simply to have quick access to the touch screen of your mobile phone. There are multitude of choices regarding the motorcycle phone holder to mount on your handlebar.
But any motorbike smartphone mount is not enough, since a good mounting system is obviously essential. At Tigra Sport we have developed two mounting systems: the Fitclic mounting system is a mechanical system. Also known as the "quarter-turn system", the Fitclic mounting system is a must.
We have also recently developed another mounting system, which is both mechanical and magnetic: the Fitclic Neo system. Its functioning is simple, since you just have to bring the phone close to the mount and let the device settle into place. The magnets contained in the case of the phone will be attracted to the ends of the mount: the magnetism allows the mechanism. Once in place, all you have to do is activate the safety device on the mount, which will block the magnets to ensure optimum safety. It should be noted that the Fitclic Neo motorbike mounting system is nearly 4 times easier to use and 2.5 times more reliable than other motorbike mounting systems available on the market while retaining most of the most important features of your phone, both for iPhone and other smartphone brands.
A dual -locking system is very important for your smartphone when you're riding a motorbike or scooter, as a fall from your new iPhone or your new Samsung could be fatal. Our motorbike handlebar mount is tested in extreme conditions and is equipped with a Goof-ProofTM lock for extra security. The motorbike being a vehicle without a passenger compartment, the quality of the mount must be irreproachable to hold the smartphone in place.
Our 2 mouting systems are compatible with the most popular phones on the market such as the different models of phone like iPhone and Samsung but also the models of the brand Huawei. Our 2 systems offer optimal security for your smartphone when you are on your bike. The FitClic and FitClic Neo systems are both easy to use, safe for your phone and your daily practice. On our website, the price of a FitClic Neo motorcycle handlebar mounting system is 39€ and the price of a FitClic motorcycle handlebar mount is 34,95€. 
To use one of our holders, you must invest in one of our FitClic or FitClic Neo cases for you phone. With this case, your phone is secure thanks to an anti-shock structure. In addition, we have made this case in such a way as to have a practical and quick grip. It's up to you to choose which mounting system is the best for your use!
The waterproof universal pouch for smartphone
Having the right mount is the basis of all protection, but it's not the mount that will directly protect your smartphone. The mount will hold it in place, but it will not save your smartphone if it falls out of the way, nor will it protect your smartphone from the weather when you are out and about.
This is why we have provided solutions to these problems. At Tigra Sport, we offer phone cases available for a vast range of smartphone manufacturers - Apple, Samsung, Google Pixel, Huawei, OnePlus - and for many models - all iPhone models, Galaxy S and Note, Mate and Pro…
These phone cases come with Dry cases, which are waterproof and fit directly on top of your classic casel to make it waterproof. The waterproof Dry case also protects your phone from shocks. You can then attach it without any problem to the FitClic Neo mount on the handlebars of your motorbike.
However, if you want to perfectly protect your phone from rain, mud, snow, or other conditions, we can only recommend our waterproof universal pouch. This waterproof case is an ideal protection for your phone as it remains light, yet of the correct size to fit in your pocket. Another advantage of this waterproof cover is that it is compatible with many phone ranges.
Nothing is easier than using it, as you simply slide your smartphone into the case, close it, and you're done. Now you're ready to go out, whatever the weather.
Of course, the pouch does not prevent you from using your smartphone, as the touch screen remains usable, as well as all the other essential functions.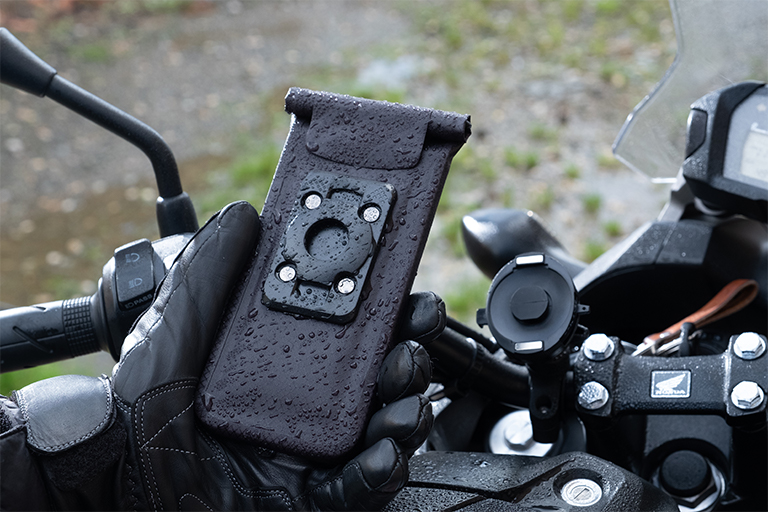 Protecting your phone on a scooter
Just as it is important to protect your motorbike phone, protecting your scooter smartphone is essential. In addition, scooters are less often equipped with GPS than motorbikes; all the more reason to have a stand.
At Tigra Sport, we have developed special mounts for scooters. Although some motorbike mounts are compatible with scooters, we thought it made sense to develop a mount adapted to scooter mirrors. With versatile mounting options for different sizes of mirror stems ( spacers supplied for 10mm, 12mm, 14mm and 16mm stem diameters), the Scooter FitClic and FitClic Neo mirror stem holder is the best mount for scooter enthusiasts. The ball joint in the mount allows you to adjust the position of your phone, even when you are moving. It's great, isn't it ?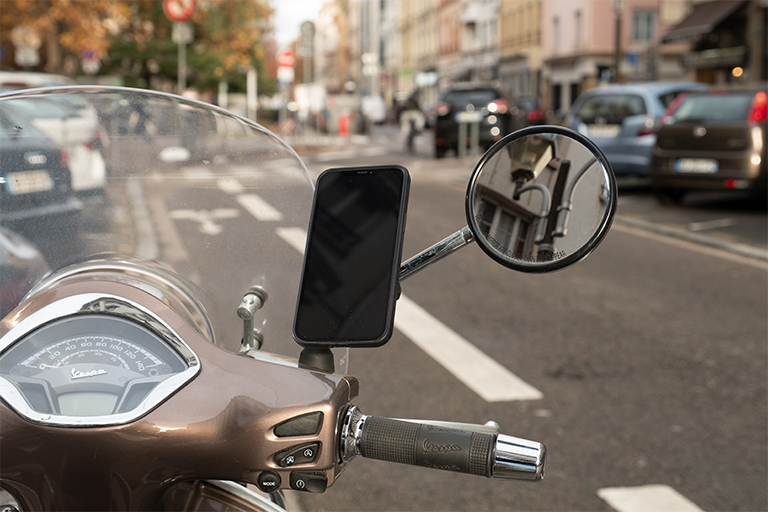 At Tigra Sport, nothing is more important than protecting your smartphone by offering you the best mount for your motorbike. We want you to ride your motorbike with your head free, without thinking about your mount. The aim is to erase the fear of a smartphone escaping from the mount while you are on the bike.
Leave a Comment
Leave a Reply
Please
login
to post a comment.